Totally Killer (2023) review
Dir. Nahnatchka Khan

By: Steve Pulaski
Rating: ★★★
One genre that has gotten a potent shot-in-the-arm in recent years is that of the horror-comedy. A lion's weight of the credit goes to Jason Blum and Blumhouse Productions for finding and commissioning talented screenwriters to flex their chops with juggling both dichotomous-yet-germane styles. More often than not, however, these scripts are derivative, heavily borrowing from several movies — or a specific, well-known property — and working backwards to modernize character types, situations, and more.
Recent history's list includes Freaky, which was a slasher-reworking of the Freaky Friday material; Happy Death Day and its sequel, both of which Groundhog Day dowsed in a blood-splattered sheen; and if we want to stretch a bit, there were some Heathers-esque elements in last year's Bodies Bodies Bodies. While comedy tends to get the better of these hybridized works, Totally Killer proves it has a bit more to portray than just another chuckle-inducing slasher.
Directed by Nahnatchka Khan (Fresh Off the Boat), this devilish little amalgam of Back to the Future and Scream opens on Halloween night 2023, where Kiernan Shipka's Jamie Hughes is getting ready to go out with her friends. Her overprotective mother, Pam (Julie Bowen), is worried about her daughter's safety. 35 years ago, around Halloween, three teenage girls were viciously slaughtered in a serial killing spree known as the "Sweet Sixteen Killings." The town has been paralyzed by fear every October since. When Pam is inexplicably murdered later that same evening, Jamie accidentally gets transported back to 1987 by way of her friend Amelia's (Kelcey Mawema) time machine (just go with it).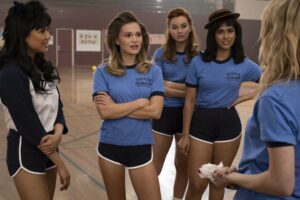 Assuming she'll be able to waltz right into the high school her mom went to and successfully warn the town of the imminent murders, Jamie gets a rude awakening when nobody, not even the town's useless sheriff (Randall Park), believes her. Jamie is left to try and bond with the snotty, stuck-up teenage version of her mother Olivia Holt) in effort to protect her and her friends while working to determine the killer's identity. There's a lot of things in this pursuit for which Jamie finds herself unprepared, but one of which happens to be the loose attitudes people in the 1980s have to such things as smoking, casual misogyny, and racism. Thankfully, Totally Killer doesn't pull a You People and become hellbent on pointing out every microaggression to be found. Screenwriters David Matalon, Sasha Perl-Raver, and Jen D'Angelo find ways to introduce them and pivot rather swiftly, in effort to be witty yet brief.
Another crafty layer is how the three writers cut back to present time, where Amelia is fussing over her time machine trying to get a sign from her friend stuck in the 1980s. The longer Jamie is gone, the more things start to change in the present. Those changes are reflected in everything from crime scene photographs collected by the town podcaster (Nicholas Lloyd) to the names of bands.
The cast is uniformly up to the deceptively challenging material, which switches tones often, sometimes on a dime. No one is more astute than Kiernan Shipka, who naturally flows from being your typically angsty teen, to grieving daughter, to proactive and protective mother-figure to a group of hormone-fueled 80s high schoolers. Julia Holt is an ideal fit as the younger version of Pam, not only because she looks so much like Julie Bowen, but because her comedic timing is as poised as her mean-girl snark.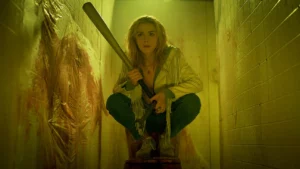 A credit to Totally Killer for not being set in the 1980s for the sake of reviving a decade we as a culture bedazzle to an unhealthy degree. Khan and company don't take us back to the past to revel in acid-washed jeans and comment on how much better music was during the Reagan era. In fact, even looking beyond Jamie's deadpan reactions to the rampant political incorrectness of the time, the film makes it a point to showcase how there's nowhere to hide in a small town.
The fact that Jamie can go back in time and interact with younger versions of her parents, her educators, school administrators, and neighbors — including Amelia's mom, Lauren (Troy Leigh-Anne Johnson), who plays a pivotal role — is because nobody bothered to leave their little enclave. They stayed put in a town that seeps with paranoia about murders that occurred 35 years ago. Everyone knows everybody's business. The fact of the matter is, as we see in the first act when Jamie is still in the present, old habits die-hard with the older generation, who left high school behind, but not the mentality.
Totally Killer's mystery involving the Sweet Sixteen Killer's identity is fun to play along with, but the kills themselves prove to be one of the film's few weak-points. Khan's background is in sitcoms, and she shoots Totally Killer very much in the same vein of a multi-camera network show, adding only sporadic flair to the point where even the 1980s sometimes have a difficult time distinguishing themselves visually. The reassuring part is that it doesn't derail all that the project has going for it in terms of being a spirited companion to the most spooky time of the year.
NOTE: Totally Killer is now streaming exclusively on Amazon Prime.
Starring: Kiernan Shipka, Olivia Holt, Troy Leigh-Anne Johnson, Kelcey Mawema, Liana Liberato, Julie Bowen, Charlie Gillespie, Lochlyn Munro, Jonathan Potts, and Nicholas Lloyd. Directed by: Nahnatchka Khan.