It's a Wonderful Knife (2023) review
Dir. Tyler MacIntyre

By: Steve Pulaski
Rating: ★★½
Whether it's a bloody take on the Grinch (The Mean One), an ass-kicking Santa Claus (Violent Night), or an even more ruthless ass-kicking Santa Claus (Christmas Bloody Christmas), the genre of yuletide horror has experienced a boon as of late. The trend looks to continue with both Thanksgiving and Silent Night (2023) due for a release in just a couple weeks. Think of Tyler MacIntyre's cleverly titled It's a Wonderful Knife as a serviceable stopgap as it arrives in theaters roughly a month before its release on Shudder.
While MacIntyre — who has a story credit on the recently released Five Nights at Freddy's film adaptation — and screenwriter Michael Kennedy dutifully try to remain faithful to the plot structure of It's a Wonderful Life, there's reason to believe that more commitment to slasher tendencies would've made for a better film. It's a Wonderful Knife is too preoccupied with plot, so much so that the kills and ambiance have little impact with most occurring in the blink of an eye.
The antagonist of the film is Henry Waters (an enjoyably smarmy Justin Long), an arrogant real estate tycoon who is hellbent on acquiring a historic home in the town of Angel Falls so he can build his retail empire. When Roger Evans (William B. Davies), the home's owner, scoffs at Waters' offer, a killer in a white robe shows up, slits Evans' throat, and later kills his granddaughter. Early into the movie, a young woman named Winnie Carruthers (Jane Widdop) identifies and kills the assailant. You can probably figure out who it is…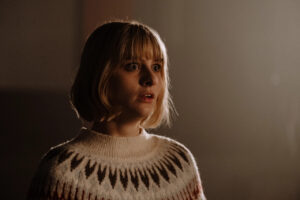 Fast-forward a year later. Winnie is depressed, unable to pull herself out of a constant feeling of malaise. One evening, she wishes she'd never been born. Her wish is granted, and just like George Bailey, Winnie gets a look at how miserable her idyllic town would've been had she not stopped the killer. Waters would go on to run and ruin everything while "The Angel" killer would rack up a body count of more than two dozen people, including Winnie's own brother (Aiden Howard). A neighborhood outcast named Bernie (Jess McLeod) serves as Winnie's de facto Clarence as she comes to grips with what her life and actions mean to this town.
Also in tow is Joel McHale, Winnie's father, who has the film's singularly great scene, an emotional one where he tells Winnie how the loss of his wife/her mother affected him. McHale has been taking on some interesting projects recently. He was the best part of Office Race, a Comedy Central made-for-TV movie, where he played an obsessive marathon-runner in a surreal performance. Here, he loans a relatively lower-budget horror film some effective pathos.
While Kennedy competently builds relationships between characters, It's a Wonderful Knife doesn't ingratiate itself well-enough as a slasher to suggest it'll find itself in the pantheon of other Christmas horror films. The film never surpasses the intrigue and possibilities of its premise. The kills are over far too quickly to leave much of an impact, the aesthetics are aggressively bland, with heavy emphasis on grays and teals, and outside of McHale, few turn in especially memorable performances.
NOTE: It's a Wonderful Knife is now playing exclusively in theaters, and will arrive on Shudder on December 22nd, 2023.
Starring: Jane Widdop, Jess McLeod, Justin Long, Joel McHale, Aiden Howard, and William B. Davies. Directed by: Tyler MacIntyre.