The Jesus Music (2021) review
Dir. The Erwin Brothers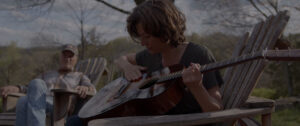 By: Steve Pulaski
Rating: ★★★½
One of my basic principles of life boils down to this: if someone isn't capable of holding a conversation about music, it's unlikely we're going to be friends. I don't care if you listen to genres polar opposite from mine. Music is one of the most foundational conduits in conversation and life because it's a great unifier. I thought that once I became a radio DJ several years ago, I'd listen to less music in my personal life due to inevitably being overexposed on a daily basis. I've found myself listening to more.
The Jesus Music is such a formidable documentary because it consistently reminds us that music is the most universally powerful tool we have as humans. Thoughts you can convey through song often hit harder than they do in casual conversation. Whether you're a fan of contemporary Christian music, a devout believer, or simply someone hungry for knowledge, this is a documentary well-worth your time.
It's also not surprising the film was directed by the Erwin Brothers, Andrew and Jon, whose most recent films include one biopic on MercyMe frontman Bart Millard (the 2018 sleeper hit I Can Only Imagine) and another on Christian singer-songwriter Jeremy Camp (I Still Believe). Christian music has undoubtedly touched their lives in ways unquantifiable, but The Jesus Music plays less like a love-letter and more like a comprehensive collection of some of the genre's most powerful voices then and now.
Beyond singing its praises, it touches on its roots in the Civil Rights era, its immense reach, and ultimately, its glaring shortcomings as its risen to being an industry unto itself.
Contemporary Christian music (often abbreviated to CCM) stars such as Amy Grant, Michael W. Smith, dc Talk's TobyMac, Kirk Franklin, and several others who help detail the non-linear timeline of the genre's inception. It rose from America's 1960s counterculture movement at the Calvary Chapel in Costa Mesa, California. Shaggy-haired, denim-wearing hippies were in search of hope in an ostensibly hopeless world. They loved performing and songwriting, but wanted to affirm their connection to God for themselves and others. Pioneers like Keith Green and Larry Norman found ways to infuse gospel into psychedelic rock compositions.
Norman, in particular, was a fascinating spirit. He was somehow too edgy for the Christian audience yet (at the time) too soft for the rock-minded listener riding a ceaseless adrenaline rush from the likes of Led Zeppelin. This Christian rock fusion at the time was billed "the devil's music" by pastors all over America. It was Norman who had probably the greatest clapback: a masterful song called "Why Should the Devil Have All the Good Music."
Overtime, inescapable voices such as Grant and Smith entered the picture. The Christian grunge/hip-hop trio dc Talk — who danced on-stage like the Beastie Boys yet found jangly harmonies ala Hootie & the Blowfish — struck gold with their song "Jesus Freak." They communicated their faith, or personal struggles with it, in a language accessible to those who were quicker to buy a Nirvana record as opposed to one by the Gaither Vocal Band. The section of the documentary has bandmembers TobyMac, Michael Tait, and Kevin Max recounting their meteoric rise and hard fall is worthy of a standalone film in itself. Of all three, Tait has gone on to see the greatest career success, having been a part of the Christian group Newsboys now longer than he ever was dc Talk.
The Erwin brothers wisely devote extensive time to voices of color within CCM. Tait, Kirk Franklin, and Lecrae discuss longstanding prejudices that have existed in the genre since its inception, but do so in a way that delicately balances personal experiences with that of a broader spectrum. Lecrae illustrates a common problem: he struggles with finding acceptance in both the CCM and hip-hop community. He's either too bold for one or too mild for another. Meanwhile, Franklin's story is one you'd call incredulous if it were a movie. He's been a father figure he never had to many in the industry, and has been honing his craft since 1992.
While The Jesus Music initially has trouble finding its footing early — hopscotching from one artist to another so swiftly you barely have time to write their names down — it quickly adopts a more measured pace. It allows itself to breathe when it talks about injustice within the church and the industry; likewise when it touches on Amy Grant's unfair expulsion from CCM radio following her divorce and subsequent marriage to country singer Vince Gill. "Country and pop music fans are more forgiving than those in our genre," one insider states. Bill Gaither even recalls a time when he told Jerry Falwell that if he's looking for the perfect human being to represent CCM, he'll continue to be disappointed.
You would think those who claim to preach the gospel of love and forgiveness would adopt the same principle. If they did, however, America would be a far kinder place. "If we [humans] are supposed to be the light, then no wonder there's so much darkness," Franklin succinctly adds at one point.
The Jesus Music is "the Summer of Soul" for Christian music — one of the year's biggest surprises on top of being one of its best documentaries. I drove 70 miles out of my way to see it. On the way home, I treated myself to dc Talk's album Jesus Freak thanks to Apple Music. It was a bold work that might manage to surprise those who have scoffed at the genre. I have a lot of catching up to do myself.
NOTE: The Jesus Music is now playing exclusively in theaters, albeit in a very limited engagement.
REVIEWS OF OTHER FILMS DIRECTED BY ANDREW AND JON ERWIN:
My review of I Can Only Imagine
My review of American Underdog: The Kurt Warner Story
My review of Jesus Revolution
Directed by: The Erwin Brothers.