Avatar: The Way of Water (2022) review
Dir. James Cameron

By: Steve Pulaski
Rating: ★★★½
James Cameron's Avatar is so tethered to the experience of how you see it that it's somewhat justifiable why it can feel as if the original film — still the highest grossing film ever made — left little cultural impact. The 13-year gap between the first and second film didn't help matters either. After the conclusion of that film, I think most of us expected to return to Pandora a lot sooner than when we ultimately did. Perpetual production delays and shifted release dates made me even wonder if the now-68-year-old Cameron would even be alive to see his vision further developed.
Here I write after seeing Avatar: The Way of Water. And I'm thrilled to report it was indeed worth the wait. Not only does it improve on the original in key spots, its new narrative direction affords you the opportunity to experience Pandora all over again, this time an entirely different corner of the planet. The first film had this unmistakably lived-in quality that is further affirmed by this sequel — which is so good at times, you might find yourself appreciating Cameron's patience in waiting for underwater motion capture technology to catch up to his vision. And you also might want to slap yourself for ever doubting him in the first place.
Jake Sully (Sam Worthington) and Neytiri (Zoe Saldana) have spent the last decade and a half raising a beautiful family: eldest son Neteyam (Jamie Flatters), adopted daughter Kiri (Sigourney Weaver), middle boy Lo'ak (Britain Dalton), and their youngest daughter Tuk (Trinity Jo-Li Bliss). Hanging around the big happy family is Spider (Jack Champion), a human-turned-"native" (Spider is the song of Miles Quaritch, who was born on Pandora before the final battle and couldn't be transported back to Earth as an infant). Together, the family lives on their idyllic planet. Peace and all is obliterated when a new breed of "sky people" infiltrate Pandora, this time to colonize the land. Armed with not only a Na'vi avatar but also with his memories, Quaritch (Stephen Lang) returns with far heavier machinery, and isn't one to take prisoners as quick as he is to shoot them, children and all. But there's one target he's after: Jake Scully.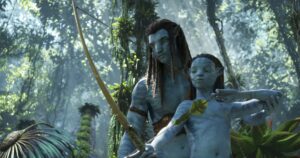 After him and his crew attack the mainland, Jake takes his family to stay with the Metkayina reef people, who follow "the way of water." "The way of water has no beginning, and no end," leaders Tonowari (Cliff Curtis) and his pregnant wife, Ronal (Kate Winslet), inform them. The kids, namely Lo'ak, butt heads with the leaders' children, who mock the family for their "alien" appearance (Jake and his kids all have five fingers as opposed to four). But these are highly developed people, who have learned to live and operate underwater and take what the waves give them. Ardmore isn't fazed by the family's relocation. He'll happily travel on land, sea, and sky to kill Jake.
A clunky start filled with unnecessary vulgarities, some hamfisted humor, and an overabundance of new faces gives way to an exhilarating triumph once the water setting is introduced. The Metkayina people and their home amongst the deep recesses of the sea allow you to re-immerse yourself in a different side of this beautifully articulated world.
The Way of Water improves on the pacing of the original; Cameron and fellow writers Rick Jaffa and Amanda Silver masterfully raise tension for extended stretches and then follow it with quieter stretches that evoke a pleasant calm. You feel the influence of more than just Cameron working here — which might explain some of the Marvel-esque humor that falls flat — but the master still feels more comfortable and refined in this world for a second time.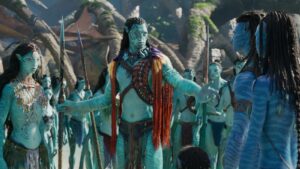 The incredible VFX team does more than use special effects to showcase spectacle, even if that's what they ultimately produce more often than not. Rather, even the most awe-inspiring scenes build up the mythology and the intricacies of this world. We're introduced to tulkuns, hulking water beasts that would instill fear in whales. They are unfathomably intelligent, empathetic creatures. They also harbor a special serum that can freeze aging in humans. Quaritch comes aboard a whaling vessel during a crew's harpooning session — a shockingly painful viewing experience. It was at this moment that I realized that the connection to the nature of Pandora was growing on me. There's such a harmonious relationship between the Na'vi people and the unique creatures that populate their planet that it takes a lot not to feel such a connection, especially when you see the hurt that whole incident brings to the Metkayina people, not to mention the tulkun's baby, who never leaves mom's side.
The characters themselves still feel archetypal. But our established connection with them and understanding of their backstories at least allows us to retain a vested interest in what happens to them. Worthington and Saldana remain steadfast in breeding as much emotion and life into their performances as possible. The new cast of young faces hold their own, and are able to maximize the screentime they're afforded. Jack Champion assimilates well despite being a human in water (not a fish out of water, technically). Once again, Lang outdoes himself as a villain you downright loathe.
Words simply fail to express how immaculate the CGI is here. Even when you consider the impressiveness of Marvel's recent slate — Black Panther: Wakanda Forever, Spider-Man: No Way Home — neither come close to matching Cameron's deft ability to build a world that not only feels developed but clear. The canvas is vast, but the action is never muddied. The action is immense, but it's spellbinding as opposed to dizzying. I was unfortunately unable to opt for IMAX 3D at my showing. I envy those that have the option. Choose that format for me, if you will.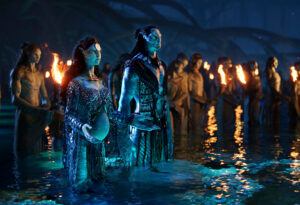 "Avatar 2" was such a faraway idea for so many years, I didn't muster much excitement for it, admittedly, until the first trailer dropped. Then I wanted to watch the original again. Now, I truly hope (although highly doubt) the third installment keeps its 2024 release date. One can't help but worry about how much time, energy, and workaholic passion Cameron has poured into this franchise. But if Avatar: The Way of Water is the end of the line for the series, it encapsulates so much of what Cameron does best, particularly with sequels: the stakes are raised, the experience feels new again, and elements are improved to create something that feels entirely fresh. Maybe even game-changing.
NOTE: Avatar: The Way of Water is now playing exclusively in theaters.
Starring: Sam Worthington, Zoe Saldana, Stephen Lang, Jack Champion, Jamie Flatters, Britain Dalton, Sigourney Weaver, Trinity Jo-Li Bliss, Cliff Curtis, Kate Winslet, Joel David Moore, Edie Falco, and Giovanni Ribisi. Directed by: James Cameron.