La La Land (2016) review
Dir. Damien Chazelle

By: Steve Pulaski
Rating: ★★★★
La La Land is a film for those stupid enough to dream, and the even stupider who choose to follow those dreams. It's a film that profiles the foolish souls who choose to follow their passions and their "fuel," so to speak, rather that something that could land them a job quickly when they get out of school so they can be on the fast-track to more money than they'll know how to spend. Finally, it's the kind of film for those people that do a lot of dreaming, most likely because it distracts them from the dour situations that they successfully crafted for themselves.
Of course I'm being facetious for the most part, but if you were dumb enough to believe your parents, grandparents, and even friends when they told you to "follow your dreams" or "do what makes you happy," you should love La La Land because it's a film that so boldly illustrates the facet of people we need to admire more. It's a film that meshes the disillusionment many of us starving writers, authors, musicians, actors, entrepreneurs, and so forth face on a daily basis with the limitless bounds of musicals in the way of Gene Kelly and Jacques Demy. It's a brightly colored feast for the eyes and ears that marches to the beat of its own drum, and it all starts by the way it embraces jazz as a culture and a story moreso than a genre and so emphatically understands its subjects.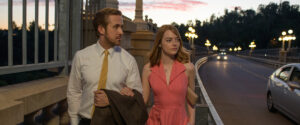 Set in Los Angeles, the film revolves around Sebastian and Mia. He is a jazz musician, making peanuts by way of a fish-bowl tip-jar atop his piano as he plays Christmas standards at a local restaurant. He dreams of opening a jazz club as a way to get the local-area not only to embrace but understand the culture of the genre in a way that's more than just background music on a given night out. Meanwhile, she is an actress, making change as a barista in between various auditions where she's either laughed off, rudely interrupted, or bested by better, more qualified performers. Through chance, the two meet one another and play off each other's banter and abilities, and what forms is a beautiful union between two driven individuals.
The ultimate goal for Mia, played ever-so wonderfully by Emma Stone, is to put on a one-woman show for a sold out crowd, a dream that begins to materialize once she moves in with Sebastian, played ever-so wonderfully by Ryan Gosling. When the two begin to live together, their creative energy inspires a noble productivity, especially as Sebastian begins to tour with a band run by his close friend (John Legend). Suddenly, what was once a possible segway into bigger and better things, more in-line with one's original dreams is now the finish line, something that not only services the momentary but can sustain years, but what happens to the dreams and plans of a younger soul?
Writer/director Damien Chazelle, most famous for his breakout film Whiplash from 2014, dares ask that and more as he profiles these two characters, who were probably a lot like him when he was their age. A lover of jazz music and someone who penned this film when the film industry seemed like a pipedream, Chazelle knows two things very well and that's jazz music and the gorgeous art of filmmaking that can serve as multiple things, including ode and homage. He proves that Whiplashwasn't just flash-in-the-pan greatness, but that Chazelle has unbelievable prowess in the way he marries both film and jazz, all while detailing a city that can be as romantic as it can be cruel.
A key scene in La La Land involves Sebastian explaining to Mia, who doesn't like jazz, why the genre of music is so beautiful and important. The two are in a lively jazz nightclub as he talks about how viewing a jazz ensemble details the chemistry and power better, as you can see numerous different instruments essentially fighting for significance. The trumpets clash with the pianos, and the orchestrations boils while all parties simultaneously reach conflict and compromise as they think, learn, and express emotions through the sounds they are making. The entire scene is a beautiful thesis for a film that has many theses.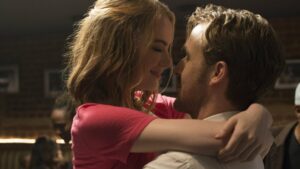 Another incredible moment comes when Emma Stone belts out her solo, the song "The Fools Who Dream," which captivated me ever since I first saw the trailer for the film. It's a song that illustrates the tribulations and roller-coaster that any sort of starving artist embarks on and knows all too well. The kind of reflection many of them have on themselves and their careers, no matter how long. Stone sings beautifully, and it's a song that should in some way eclipse Ryan Gosling's acclaimed number "City of Stars," despite that one also being a wholly solid piece.
It almost goes without saying how excellent Stone and Gosling melt into their parts here. Stone, with her wide-eyed charm, conveying both subtle and loud emotions, and Gosling, like in The Nice Guys, given another chance to transcend minimalism and be a real character, show extreme talent here, and both of whom exude the kind of chemistry one demands in a film so free as this.
Shot in glorious, immaculately colored "Cinemascope," a bygone filming-style from decades passed, which favored the wide-angle lens when widescreen wasn't nearly as common, and loans itself to the pulsating beauty of reds, yellows, and greens, La La Land looks decidedly old-fashioned and detailed in the same way Quentin Tarantino's The Hateful Eight did last year. Cinematographer Linus Sandgren works closely to make sure every color is as vibrant and accessible as is every musical note, and for a film billed as the rare "jazz musical," you'd be surprised at how some of the dance numbers don't feel particularly memorable. I don't see that as a criticism as much as the fact that they're woven so cleanly and neatly into the film that they don't stand out and become these jarring forces disruptive to the continuity of the narrative. Their seamless qualities are a testament to Chazelle's carefulness as a young director.
Over the course of two magical hours, La La Land treats you to an excess of emotions and feelings, especially those in similar positions to both Sebastian and Mia. Most will understand its simple message, but not as many will empathize or even fully grasp it in a deeply personal manner, and as the film paints a gorgeous picture, it also successfully paints the stories of many people, as well as the vicious cycle that will come to define their lives. Few films understand a class of people as well as La La Land does, and even fewer understand it with such piercing accuracy.
NOTE: As of this writing, La La Land is streaming on Amazon Prime Video and Tubi (free of charge).
OTHER REVIEWS OF DAMIEN CHAZELLE FILMS:
My review of Guy and Madeline on a Park Bench
My review of Whiplash (2014)
My review of First Man (2018)
My review of Babylon (2022)
Starring: Ryan Gosling, Emma Stone, John Legend, Rosemarie DeWitt, Finn Wittrock, and J. K. Simmons. Directed by: Damien Chazelle.