Ant-Man and the Wasp: Quantumania (2023) review
Dir. Peyton Reed

By: Steve Pulaski
Rating: ★★
Even the most ardent Marvel fans approach each Ant-Man installment as an inconsequential but amusing dose of serotonin. Our introduction to the character came at an opportune time in the MCU landscape, insofar that we just touched base with Iron Man and Captain America, and had just been introduced to Ultron. If anything, Ant-Man was a nice stopgap that served as an origins story to an otherwise niche hero as well as an appropriate layover between an Avengers and Captain America sequel.
Ant-Man and the Wasp: Quantumania arrives with less fanfare than most Marvel movies, and is one of the weakest installments in the MCU, which is officially 31 films-deep, if you're keeping a tally. Beyond serving as the theatrical introduction to the new villain Kang, whose name is in the upcoming Avengers sequel, so we know it's important, this is as big of a slog as any Marvel film since the Daredevil and Elektra days. It might not be that lackluster, but the stakes have been raised far beyond characters breathlessly running around in a world that looks like a Marvel screensaver circa 2010.
Since the events of Endgame, Scott Lang (Paul Rudd) has been taking it easy, having just written a best-selling memoir whilst trying to live a life of normalcy with his girlfriend, Hope (Evangeline Lilly), and rebellious daughter, Cassie (Kathryn Newton). Hope has also assumed duties as the Wasp from her mother Janet (Michelle Pfeiffer). Thanks to Cassie and grandpa Hank's (Michael Douglas) latest science project, the whole family is sucked into the Quantum Realm. Cassie might've created the portal, but someone inside the realm is able to pull them in and manipulate them without their control.
Not long after everyone is thrust into the land where everything exists all at once, Jane's 30-year secrets begin coming to light. Enter the aforementioned Kang the Conqueror (Jonathan Majors), a "multiversal adversary" in need of Pym Particles to power a ship that can lead him to any point in time. He's essentially the new Thanos, omnipotent and ostensibly indestructible.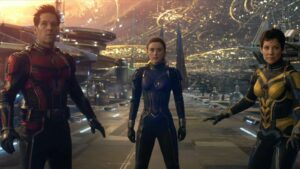 Phase Four of the MCU has kicked the multiverse concepts into overdrive, and director Peyton Reed and the legion of special effects artists clearly have a ton of fun playing around in the Quantum Realm. The first 30-or-so minutes of Quantumania is a predictable assortment of psychedelic imagery designed to dazzle and baffle, all in the same breath. After seeing Sam Raimi play around with such a landscape in Doctor Strange in the Multiverse of Madness — and somehow manage to rise above Marvel's obsessive creative control over their projects with predetermined plot-points and visions — Reed's vision feels corporate-approved and unremarkable by comparison. In fact, the effects here are a significant downgrade from past installments. Online accusations that Marvel VFX artists have, as of late, not been giving enough time to be precise and detailed with their visions due to stringent deadlines has never felt more credible than when watching Quantumania. Certain frames look great. Others, such as the early entry into the Quantum Realm as well as chunks of the obligatory final battle, look unpolished.
Jeff Loveness' script is so erratic that it can't even slow down to spend much time with some interesting new faces, such as William Jackson Harper's disillusioned mind-reader or Katy O'Brian's freedom fighter warrior. The only new face who feels adequately humanized is a major A-lister making his MCU debut. Once you see who it is, you'll be elated to see he's as deadpan and as entertaining as you hoped.
Kang doesn't leave much of an impression either. I'm sure the gaggle of TV shows have humanized him better, but as someone with a full-time job and more interest in movies, I've yet to devote time to those. Majors has room to grow as the new face of evil in the MCU. His presence already suggests a studio that, post-Endgame, has more-or-less had to figure out where to go next after having to have been surprised with how far they've gotten. How Jane could have been trapped in the Quantum Realm for 30 years but never mention Kang to a single soul is only believable if she were working for the Conqueror herself.
Where's the Wasp in all this? Along for the ride. Evangeline Lilly might get top billing for the second consecutive film in the series, but she's entirely underutilized. Much of the film revolves around Scott and Cassie's prickly relationship with one another. It manages to inject some life into a screenplay in search of some humanity beneath the green screen, and it works largely because Newton gives her character a dynamic edge and Rudd is his usual, amiable self. However, Ant-Man and the Wasp: Quantumania would've been more fun had its storyline revolved around the Lang crew getting sucked into the Quantum Realm on a rescue or a search and destroy mission. Instead, the frenetic pacing and generally low-stakes vibe makes this an easily skippable entry into the franchise that's at the point where the snake is starting to feast on its tail.
NOTE: Ant-Man and the Wasp: Quantumania is now playing exclusively in theaters.
My review of Ant-Man
My review of Ant-Man and the Wasp
Starring: Paul Rudd, Evangeline Lilly, Kathryn Newton, Jonathan Majors, Michelle Pfeiffer, Michael Douglas, William Jackson Harper, and Katy O'Brian. Directed by: Peyton Reed.