Blue Beetle (2023) review
Dir. Ángel Manuel Soto

By: Steve Pulaski
Rating: ★★
Even when I said I'd be taking a break from watching and reviewing Marvel movies a few months back due to fatigue, I still quietly anticipated The Flash and, in particular, Blue Beetle. The latter intrigued me in the same way Ant-Man did, as it revolved around a lesser-known DC hero only devout comic-book readers would know. In a film landscape that regurgitates and reboots the same heroes every decade or so, there's something exciting about seeing a "new" character grace the big screen for the first time. There's also the benefit of no expectations.
However, Blue Beetle is saddled with the unfair and unwanted stigma of essentially being a write-off for the maligned DC Extended Universe, which is under new management and enthusiastically embracing a new direction as soon as these leftovers are released. This takes a lot of air out of the film's sails, and also renders the mid-credits stinger an empty promise. I fear I'll care about the rebooted DC Universe about as much as I care about the next four or five Marvel projects. To call the game James Gunn and Peter Safran are playing "risky" is an understatement. It's borderline reckless.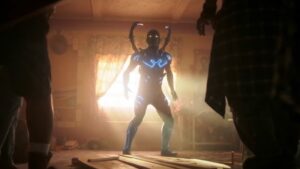 Blue Beetle takes place in Palmera City, Texas, a rapidly gentrifying area that is pushing out its Latino population. It would be a new and different subplot for the superhero genre, if it were at all explored. The kingpin of the town is a CEO named Victoria Kord (Susan Sarandon), who seeks possession of a blue, gleaming alien known as "The Scarab." The Scarab "chooses" its user, and after latching onto a person, essentially turns them into a heavily militarized killing machine, capable of flying, relaying vocal commands/updates, and protecting its user with a armor. Victoria's more even-keel daughter, Jenny (Bruna Marquezine), manages to steal the object away from her mother and passes it off to Jaime Reyes (Xolo Maridueña), an unemployed law student trying to get a job at Kord Industries.
Jaime (pronounced "hy-may") takes the Scarab back to his family — sister Milagro (Belissa Esccobedo), father Alberto (Damián Alcázar), mother Rocio (Elpidia Carrillo), grandmother Nana (Adriana Barraza), and uncle Rudy (George Lopez) — where they advise him to disobey Jenny's orders and open the box in which it came. No sooner do they open the box does the Scarab attach itself to Jaime and transform him into a reluctant hero with powers he doesn't know how to harness. Right on schedule is Victoria and her henchman, Carapax (Raoul Max Trujillo), moving to locate Jaime and retrieve the Scarab.
The best of Blue Beetle exists in the quieter moments between the family. Jaime and Milagro have a cute sibling relationship, and George Lopez's uncle Rudy is quick with the comebacks and livens up the usual origins story business with some much-needed comic relief. Most of these moments take place in the first half of the film, which gives the idea that the entire project will be a more light-hearted foray into the superhero catalogue.
However, things quickly go south when the action starts. Director Ángel Manuel Soto (the underrated Charm City Kings) has a hard time making a mangled mess of CGI blue beams and explosions coalesce into something attractive and clear. Things get chaotic and rarely let up, and with an underdeveloped villain, regardless of how menacing Sarandon tries to be, and equally faceless followers, Blue Beetle quickly makes you long for the more heartful scenes with the Reyes family.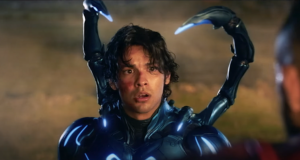 All due respect to Xolo Maridueña, who made waves with Cobra Kai, but outside of one scene that requires him to be helpless and despondent, he has a difficult time making audiences connect with Jaime Reyes other than the fact that he has a close relationship with his family. Maridueña doesn't get much help from Gareth Dunnet-Alcocer's screenplay, which curiously skips over crucial plot developments. It's never clear why the Scarab chose Jaime as its user. It's also not clear what exactly the Blue Beetle is supposed to be. His origins story finds itself an amalgam of Spider-Man and Iron Man, and this film does little to distinguish the character as anything other than an indestructible blue creature capable of flying and (mostly) avoiding danger.
Blue Beetle was originally set to be released on HBO Max (now Max), but the production values, for the most part, don't reflect this. Often, it looks better than Ant-Man and the Wasp: Quantumania, which had double the budget.
Like The Flash — which at least had the intriguing element of present-day Barry Allen trying to teach his younger self to take the responsibility of being a hero seriously — Blue Beetle is also robbed of its significance based on circumstance. While not entirely the fault of the film, the fact of the matter is that this film is a one-off work that lays a lot of groundwork that will inevitably be demolished in favor of a "bolder vision." So, not only do we have another origins story assembled from the working parts of other, better movies, we have one that ultimately doesn't matter in an external sense. It's an insult to the Latino cast and the devoted Latino moviegoers in America, who routinely show up for blockbusters. They get to see their culture, as well as characters who look like them, on-screen for all of two hours before this saga is rejected and promptly forgotten by those who pushed it.
NOTE: Blue Beetle is now playing exclusively in theaters.
Starring: Xolo Maridueña, Adriana Barraza, Damián Alcázar, Elpidia Carrillo, Bruna Marquezine, Raoul Max Trujillo, Susan Sarandon, and George Lopez. Directed by: Ángel Manuel Soto.