Lolita (1997) review
Dir. Adrian Lyne

By: Steve Pulaski
Rating: ★★★½
Adrian Lyne's Lolita was a cursed film from the jump, at least in America. One wonders if the French production company Pathé envisioned the near-impossibility of securing a distributor for the film in America, and if in hindsight, they would've cut the whopping $62 million budget in half. The pearl-clutching about the prospect of a movie based on Vladimir Nabokov's perennially controversial novel began almost as soon as the film was finished. The premium cable network Showtime wound up purchasing the rights for an August 1998 television premiere — almost a year after the film had debuted in Rome — and a very limited theatrical engagement was launched for no other reason than awards purposes once the Samuel Goldwyn Company put up the money.
Yet again, the rest of the world was over and done with figuring out something while the United States was kicking rocks and pretending to play Moral Orel in the process.
Now, of course there's Stanley Kubrick's 1962 film. Nabokov's screenplay dialed down the salacious elements in favor of something more darkly funny — with an intense focus on the character of Clare Quilty. Oddly enough, screenwriter Stephen Schiff and Adrian Lyne, famous for melodramatic thrillers Fatal Attraction and Unfaithful, opt for an approach closer to that of the source material. Lyne's Lolita has shreds of comedy, but it's a substantially darker, more disturbing picture. It's tactile in how it's aware of its lead character's unconscionable actions, yet it never gets hamstrung by constantly affirming his amoral behavior.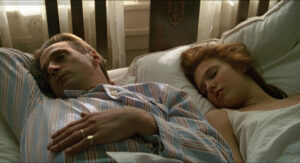 Humbert Humbert (Jeremy Irons in a performance that should've netted more awards recognition than it did) is traveling to New England with aspirations of being a college professor. On a layover which has him shacking up in the home of Charlotte Haze (Melanie Griffith), he finds himself painfully attracted to her 14-year-old daughter, Dolores (Dominique Swain), whom he eventually refers to as "Lo" or "Lolita." The only justification he can muster is that she serves as the love of his youth he never experienced. Either way, Humbert progresses from pervert to pedophile. First, he's tantalized by short glimpses of Lolita's legs and youthful essence. Later, he engages in a sexual relationship with the teenager. He marries Charlotte to remain close to Lolita, however, she's killed in a car accident before she can confront both of them on their inappropriate bond.
Once that happens, Humbert is all Lolita has, and sadly, vice-versa. The two hit the road, which takes them to all sorts of random locales. The constant time together makes their relationship cycle between playful, sexual, and eventually, combative. Enter Clare Quilty (Frank Langella), a serial pedophile, who pulls Lolita away from Humbert; a move that accelerates his increasing instability.
As monstrous as Humbert is, Schiff no less affords him the privilege of existing as a human being. Lesser directors might've worked overtime to make him into a categorically evil predator. Schiff and Lyne trust the audience enough to make that judgement. They make a conscious effort to understand Humbert, something we can do while simultaneously loathing his actions. The writing would mean very little if Irons wasn't so strong. When he calls Lolita the "light of my life, fire of my loins, my sin, my soul," we feel it thanks to his conviction.
With the way Humbert is written and portrayed, it's abundantly clear that Lolita rejects exploitation while not prohibiting humanization. Condoning and portraying something vile should not be seen as mutually exclusive. American moviegoers may never grasp that concept.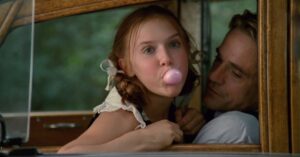 Dominique Swain has a challenging role, yet pulls off Dolores as if she's twice her age with twice the experience. Swain nails the duality of temptress and victim; she makes some of the comedic lines work with no supporting help either. She'd later go on to appear in Face/Off and reunite with Melanie Griffith in the underrated drama Tart in 2001.
In past reviews, I've mentioned how Adrian Lyne is an economical filmmaker, someone who knows how to trim fat and only invite the essentials into any given scene. At almost two-and-a-half-hours, Lolita is as slow of a burn as he's ever allowed. The additional time is worth some of the flab and repetition because of how the relationship between Humbert and Lolita develops, especially as their courtship becomes increasingly hostile. Lyne's longtime collaborating cinematographer Howard Atherton has one truly great moment of visual gusto, during one of Humbert's nightmares. The camera wobbles as the colors darken to give the appearance of a fever-dream. Some of the corrugated backgrounds remind me of the time a Max Headroom impersonator hijacked two TV stations in the Chicagoland area — and it takes a lot for me to make that kind of a reference.
Lolita might be Adrian Lyne's finest work, as far as I'm concerned. You can't take your eyes off of it. Assuming you even want to put your eyes on it.
NOTE: Lolita is available to stream on Tubi, free of charge.
OTHER REVIEWS OF ADRIAN LYNE FILMS:
My review of Deep Water
My review of Fatal Attraction
My review of Flashdance
My review of Indecent Proposal
My review of Jacob's Ladder
My review of Nine ½ Weeks
My review of Unfaithful
Starring: Jeremy Irons, Dominique Swain, Melanie Griffith, and Frank Langella. Directed by: Adrian Lyne.