The Boogeyman (2023) review
Dir. Rob Savage

By: Steve Pulaski
Rating: ★★½
During summer 2020, at the height of the COVID-19 pandemic, when most of us were stuck inside our homes desperately straining to entertain ourselves, British director Rob Savage had a reason to celebrate. His screenlife horror film, Host, saw a release in both theaters and on Shudder. Less than 60 minutes in length, the film received a sterling 99% score on Rotten Tomatoes, and its success got him a picture deal with Blumhouse. That resulted in Dashcam, a dual-threat horror-comedy that sadly found itself mostly ignored, perhaps due to its problematic (but frankly, uproariously funny) main character.
Savage has now received his mainstream break with The Boogeyman, an adaptation of Stephen King's short story from his Night Shift anthology (the same book that introduced us to Children of the Corn and Trucks). Where Savage's two prior horror features had us leering at characters via webcams and internet live-streams, his latest logs off and brings us into the room with them. Savage's graduation from screenlife to (comparatively) big-budgeted studio horror is competent, at least aesthetically and in regards to the performers. He should be playing Michael Jackson's song "Hollywood Tonight" all weekend long because he was ready for this moment.
Will Harper (Chris Messina, Air) is a therapist who just lost his wife in a car accident. His coping mechanism is moving on like nothing happened, which leaves his two daughters, the teenaged Sadie (Sophie Thatcher, The Book of Boba Fett) and the youngster Sawyer (Vivien Lyra Blair, Kenobi) essentially on a life-raft, nearly drowning in grief. Will's solution is sending the girls to therapy and run his own practice while ignoring the advice he gives to his patients.
All that said, it's the worst time for someone like Lester Billings (David Dastmalchian, The Suicide Squad) to drop by Will's office. With nowhere else to go, the distraught and disheveled Lester tells Will that he lost his three children, one to SIDS and the other two to unexplainable occurrences. They were being haunted by a monster, and now said monster has come for him, lurking in the shadows of darkness. The monster, later known as "the Boogeyman," is fueled by grief and toys with its victims in lurid and disgusting ways before eventually consuming them.
After that haunting interaction, what was ailing Lester has now infected the Harper family. Because Will is too busy going through the motions of life, Sadie must figure out what begins disturbing her little sister. The Boogeyman is able to use voices of loved ones in order to manipulate, and it thrives in total darkness. Make sure your candles are lit.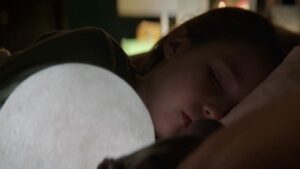 The Boogeyman shares a lot of similarities with Lights Out, another marginally effective chiller that's title clued you into the fact that you'd be treated to a lot of scares revolving around illumination, or lack thereof. Savage's film plays with the very same conventions. To its own detriment, it's rife with jump-scares. Whether it's the flashing lights from Sawyer's PlayStation game, a therapy session where Sadie and Sawyer try to contact their late mother with the help of a blinking red orb, or even Sawyer's bedroom, which is lit like the Fourth of July, Savage and cinematographer Eli Born love playing with the light switch in one way or another.
The film's attempts to startle and jolt the audience are admittedly redundant. If you can accept the fact that The Boogeyman won't try to perturb you with many other devices besides the usual light games and jarring synths, you'll hopefully forgo whatever disappointment you harbor andappreciate what Savage and company achieve in other ways. Salvaging the latest King adaptation is its performances, which are fantastic across the board. Dastmalchian might only be in the film for roughly five minutes, but the conviction in his performance is tremendous and devastating. The sadness of Lester's story hangs over the remainder of it. Marin Ireland, who plays his wife, owns two different scenes as an irreparably scarred matriarch who has watched her family be decimated by a force she cannot explain, and now must try and fight.
The glue of the picture is Sophie Thatcher, who turns in a commanding performance with Messina's Will fading into the background. At 22-years-old, with only ten credits to her name, Thatcher could have a long and prosperous career ahead of her.
Although King's short story was first published in 1973, The Boogeyman comes at a time when the latest trend in horror is to personify some kind of trauma. You could argue it started with It Follows and its metaphor for one's sexual past. Savage's film shares some common-ground with Smile, which navigated PTSD, paranoia, and other mental illnesses. A great film in this newfound subgenre — could we call it "escalated horror?" — is tough to come by. One that doesn't feel derivative is even rarer. The Boogeyman has the talent to lean into its strengths, its performers.
NOTE: The Boogeyman is now playing exclusively in theaters.
Starring: Sophie Thatcher, Chris Messina, Vivien Lyra Blair, Madison Hu, Marin Ireland, LisaGay Hamilton, and David Dastmalchian. Directed by: Rob Savage.