Road to Utopia (1946) review
Dir. Hal Walker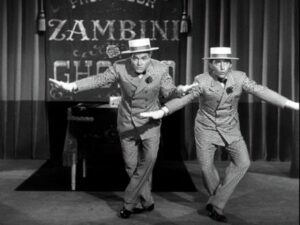 By: Steve Pulaski
Rating: ★★★
The first surprising detail regarding Road to Utopia was Paramount not tapping David Butler, director of Road to Morocco, to return for this installment of the series. The previous film had not only been the most acclaimed feature in the series yet, but had been the most financially lucrative in both ticket and rental sales combined. Butler brought an identity to the direction of the series that had been slightly lacking under Victor Schertzinger (somewhat justifiably given his comfort-zone in silent dramas and hard-boiled thrillers). Instead, Paramount opted to hire Hal Walker, whose directorial debut Souls at Sea merited an Oscar nomination. Walker at least had familiarity with the comics thanks to his background work on the previous features, but the decision was no less mystifying.
Suffice to say, it did little to hamper both the financial and overall success of Road to Utopia. It doesn't ascend to the heights of Morocco, which saw everyone from Bing Crosby and Bob Hope to Dorothy Lamour and Butler operating in their prime, but it does many things distinctly different from its predecessors. For starters, Road to Utopia is the first in the Road to… series to be sparsely populated by caricatured foreigners. Even the title doesn't allude to a specific locale ala Singapore or Zanzibar. That's what you get when you drop this bumbling duo into the Alaskan tundra.
This also means screenwriters Melvin Frank and Norman Panama are forced to conjure comedy from dialog and situational humor now more than ever. The film opens with an on-screen narrator (Robert Benchley) explaining what a confounding, loony picture this is, and that he'll be popping up from time-to-time to contextualize it (aka make snide remarks ala Svengoolie). It's an effect that leads to a lot of comic hits and misses. None of the other Road to… films needed a third-party announcer.
Alas, it's also the first in the series to have occurred in the past. We move from Benchley's prologue to a frame-story showing both Chester (Hope) and Duke (Crosby) as elderly men. Chester, now married to Sal (Lamour), are paid a visit by Duke, whom we believe hasn't turned up in years. Accompanied by a pair of dames ("nieces"), the two men recount the story of how Duke saved Chester's life.
It was the eye-catching Sal who ventured out to Alaska on the trail of a pair of goons (Nestor Paiva, Robert Barrat) who murdered her father and snatched a map to his gold-mine, valued at around $3 million. By comparison, Chester and Duke are small-potato con-men. And shockingly, not the brightest bulbs. They unknowingly steal the identity of the wanted duo en route to the gold mine for themselves. They incite fear in every snow-covered town they happen upon, all while concealing the map that will lead them to their riches.
Predictably, when they do cross paths with Sal, she becomes the apple of both their eyes, leading to a romantic love-triangle on top of a pursuit of cash beyond their wildest imaginations.
It's silly, superfluous stuff, as expected. The settings do become a touch uninspired and interchangeable as Walker has some difficultly in bringing a lot of visual flare to the Alaskan wilderness, whereas Singapore and Morocco had character in their locations. Where Road to Utopia starts running with downhill speed is in its final thirty minutes when sled-dogs get involved. Eventually, the duo are running around with an accidentally-lit stick of dynamite bearing the longest fuse in the world. It's slapstick done as well as this series has yet to see, and saves the project from becoming Road to Zanzibar in its inability to maximize its titular setting.
One odd note: Road to Morocco was released to critical acclaim and roaring success in 1942. It marked the third consecutive year a film in this series was released. However, the train unexpectedly halted, and Road to Utopia wasn't released until 1946. Dorothy Lamour stated in her autobiography, fittingly titled My Side of the Road, that the film's release had been delayed several times so as not to jeopardize the public nor the Academy Awards committee's acceptance of Crosby as Best Actor for his role in Going My Way. That film had won a whopping 10 Academy Awards, including Best Picture, and further solidified Crosby as one of, if not the, biggest actor working in 1944.
There's two sides to every coin and Crosby could flip like nobody's business.
My review of Road to Singapore
My review of Road to Zanzibar
My review of Road to Morocco
My review of Road to Rio
My review of Road to Bali
My review of The Road to Hong Kong
Starring: Bing Crosby, Bob Hope, Dorothy Lamour, Douglass Dumbrille, Nestor Paiva, and Robert Barrat. Directed by: Hal Walker.