Clerks III (2022) review
Dir. Kevin Smith

By: Steve Pulaski
Rating: ★★½
FOREWORD: I went back to the theater to see Clerks III a second time, exactly a week after I had seen it for the first. For those less-eloquent thoughts, which are filled with spoilers, take a look at that viewing's diary entry on my Letterboxd page.
"It'll be a movie that concludes a saga. It'll be a movie about how you're never too old to completely change your life. It'll be a movie about how a decades-spanning friendship finally confronts the future. It'll be a movie that brings us back to the beginning — a return to the cradle of civilization in the great state of #newjersey." – Kevin Smith, 2019
I cannot remember walking into a theater as nervous as I was for Clerks III this evening. It was almost comical. I'm not someone that harbors aggressive, fanatical obsessions with massive franchises. Personally, I love and appreciate the colorful characters of Kevin Smith's View Askewniverse like some do their favorite Marvel heroes.
No movie means as much to me as Clerks, but I already wrote that review three times over. My apprehension for this sequel began after my severe disappointment with Jay and Silent Bob Reboot. Kevin Smith has simply not been the same writer/director since he started chiefing blunts at the rate of Snoop Dogg. He's doubled-down on nostalgic callbacks, and since Tusk, has ostensibly lost the ability to tell a fresh, coherent story.
I report back in decent spirits, however. Clerks III isn't the horrendous dud Reboot was. Smith's concluding chapter to his own personal "Before trilogy" is the weakest of the three, but if you can accept his undying commitment to meta writing, and tolerate it enough to sit through reenactments of the 1994 film that made his career in the first place, you'll at least be rewarded with some seriously successful pathos. There were a lot of tears from me, I must admit.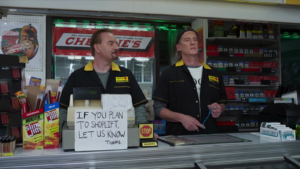 Clerks III finds Dante Hicks (Brian O'Halloran) and Randal Graves (Jeff Anderson) roughly 15 years after they quit Mooby's to buy and rebuild the Quick Stop. Our friendly neighborhood drug dealers Jay and Silent Bob (Jason Mewes and Smith) have converted RST Video into RST THC, but still sell their weed covertly outside as if their favorite substance was still illegal.
The crew is still as arrested as ever, but Dante is the one hurting the most. A tragic accident took everything from him, and he's left by his lonesome. Randal, on the other hand, still uses the virginal Christian geek Elias (Trevor Fehrman) as his favorite punching bag; Elias even has a silent partner named Blockchain (Austin Zajur), after their enterprising NFT business. But when Randal lays into Elias upon opening the store on a regular morning, he collapses from a massive heart attack.
Thanks to a surly doctor, he survives the widow-maker, but for what? Randal confides in Dante post-surgery that he doesn't have a life worth saving. So, he talks himself into making a movie (just like Kevin Smith) — a movie about him and his best friend being convenience store clerks — just like Kevin Smith. Everyone from the guy whose hand got stuck in a Pringles can, to the milk maid, and even Veronica (Marilyn Ghigliotti reprising her role) comes along for the ride, once Dante secures funding from Emma (Jennifer Schwalbach-Smith), the woman he left for Becky (Rosario Dawson).
Ardent fans of Smith will recognize callbacks to the original production of Clerks and Smith's own life's, which was forever altered when he himself survived a massive heart attack back in 2018.
Part of my anxiety towards Clerks III stemmed from the plot. This is now the fourth (!) movie Smith has made about making a movie — Jay and Silent Bob Strike Back laid the foundation for Zack and Miri Make a Porno, Reboot, and now Clerks III — and the trope is beyond tired. Even when you hear Smith justify it — in theaters, and I presume on the ongoing "Convenience Tour," the film is followed by a 15-minute "making of" documentary — the fact remains that this is Smith's most exhausted plot device; the one he leans on when he doesn't know where else to turn.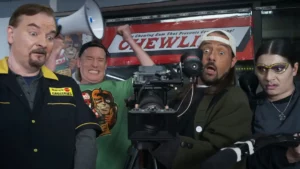 What keeps Clerks III buoyant, and ultimately satisfying, is the deft handling of mortality. Whether it's Dante's unshakable grief that has completely stunted his ability to be truly happy, or Randal mourning his life well wasted, this final chapter doesn't back away from the overarching sadness. Multiple scenes are bound to gut Smith loyalists, as they did me, specifically a sweet moment shared by Dante and Becky, and those final 15 minutes — which are somewhat shocking yet sincere and deeply, deeply moving. I thought I related to Dante a lot before.
How can you go on and on about independent contractors working on the Death Star or debating whether or not title dictates behavior when you're living in denial and suppressing rage?
The strengths of Clerks III lie in the first 25 minutes and the last 25, give or take. There are winning moments in-between. However, when production gets rolling on Randal's movie, you long for a story like Clerks II, which was new and poignant. Maybe if I were younger, references to "Dental School," Chewlies gum, and Julie Dwyer's funeral would've elated me. Life is too short to waste doing something you don't love, but it's also too short to remake what ultimately made you a career. I have to borrow a line from my review of Reboot in saying that Smith has deduced these characters to their presences. Through the years, they've become in on the joke that is themselves.
But to continue to accentuate the positives: Ghigliotti's return as Veronica is emotional, with the veteran actress giving a performance liable to break your heart and make you smile all in the same beat; Jay and Silent Bob are used sparingly, as if they just had their own movie three years ago, rendering them most effective; the music is terrific; and it's simply a pleasure to see the gang back together, one final time. To Smith's announcement of Clerks III back in 2019, the film does succeed in being an ode to the blue collar denizens of New Jersey (even if there's desperately few customers in this sequel). It really hits you when John Gorka's ballad "I'm From New Jersey" plays during the end credits. Smith is now 3-for-3 in closing out Clerks with a song that is so fitting, it's almost painful.
I've written three reviews of Clerks since I began writing film reviews. I've reviewed Clerks II twice. I'll come back to Clerks III eventually, and who knows what I'll think then?
NOTE: Clerks III is now playing exclusively in theaters, as a limited engagement Fathom Event, and on Kevin Smith's ongoing "Convenience Tour."
My review of Clerks
My review of Clerks II
My review of Mallrats
My review of Chasing Amy
My review of Jay and Silent Bob Reboot
Starring: Brian O'Halloran, Jeff Anderson, Trevor Fuhrman, Jason Mewes, Kevin Smith, Marilyn Ghigliotti, Rosario Dawson, Austin Zajur, Amy Sedaris, and Jennifer Schwalbach-Smith. Directed by: Kevin Smith.