Furious 7 (2015) review
Dir. James Wan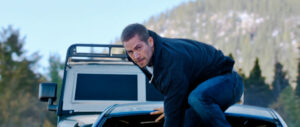 By: Steve Pulaski
Rating: ★★★
The sudden death of Paul Walker in late November 2013, by car accident nonetheless, prompted a whirlwind of shock and tears from the film and car community. One of their own was taken by the very same vice he used to propel his name in film and exercise his passion in the real world. It was a stern reminder to people of two very important things: one, as much as we can go see each new installment of The Fast and the Furious franchise, we must remember that cars are weapons that many of us operate or embrace each and every day and, two, that living religiously by your passion can also warrant you dead by that same passion, and in my mind, that's not a bad way to go.
With Walker's death and a cast and crew in mourning, the completion of the seventh installment of The Fast and the Furious franchise was in limbo. Using the process of CGI, an elaborate digital program that allowed for flawless facial reconstruction, casting Cody and Caleb Walker, Paul's brothers, to double as him in numerous scenes, and not focusing too intently on Cody or Caleb during his scenes with close-ups or long takes, Furious 7 was able to be completed and now serves as a satisfying sendoff to an actor that, even non-fans can agree, was taken too soon.
At any rate, it must've been tough being Paul Walker's Brian O'Conner character. Not only can you not make up your mind about whether or not you want to leave the FBI or become a full-time fugitive/street-racer, as of late, you're raising a kid with another in tow and have gone from driving tricked-out hot-rods boasting nitrous to a minivan – a vehicle with a sliding door you can't even figure out how to operate. Such is life for O'Conner in Furious 7, as him, his wife Mia (Jordana Brewster), her brother Dom (Vin Diesel), and his wife Letty (Michelle Rodriguez) have returned to the United States after having their fugitive status revoked by U.S. Diplomatic Security Service agent Luke Hobbs (Dwayne "The Rock" Johnson). The gang are trying to live a normal, suburban life when a mysterious package is sent to them from Tokyo and subsequently explodes, causing their home to blow up in smithereens.
The bomb was delivered by Deckard Shaw (Jason Statham), the brother of Owen Shaw from Fast & Furious 6, who has come for vengeance. Deckard's plan is to exterminate each and every member of Dom's crew, and after successfully killing Dom's trusty mechanic and do-all man Han (Sung Kang) and putting Hobbs in the hospital, Dom knows he's not playing around. Brian, who has admitted not only to missing the bullets and the gunfire above all the racing and the girls that came with it, and Dom have no choice but to round up the remainder of their crew – everyone from Letty to wise-cracking Roman (Tyrese Gibson) and street-race organizer Tej (Ludacris) – to try and settle the score.
There's also an interesting technological element here known as "God's Eye," which is given to the group by Frank Petty (Kurt Russell), the leader of an special ops mission that helps the gang bring down Shaw the hard way. "God's Eye" gives the group the ability to hack any technological device with a screen or a lens, be it any ATM machine, cell-phone, Television, or camera in the country. They shockingly end up using it wisely in order to orchestrate attacks and plan ahead on Shaw's whereabouts.
The first three Fast and the Furious films were all playful romps that exuded some level of believable qualities and a method to their madness. The fourth film began the descent into grittier action territory, while the fifth film unevenly merged the silliness with the sleek action formula that created a lesser Italian Job film of sorts. The sixth film, the first good film in the franchise since the second, successfully merged the sleek with the silly, emphasizing some pathos and interjecting it in with some seriously eye-popping action sequences. Furious 7, on the other hand, is entirely absurd; a highly energized film filled with muscle and emotion (but not enough to corrupt any masculinity, I assure you), it manages to crank up the lunacy to entirely new levels. While the film may be reset in Los Angeles, it's a Los Angeles that ostensibly takes place on an entirely different planet. Most setups and occurrences in this film are so baffling and logic-defying, they make the famous "safe" scene I expanded upon in my review of Fast Five look completely and totally plausible.
While these sound like criticisms, they are most certainly not. Each Fast and the Furious film comes with a truly riveting and memorable race scene, and this film's most notable one is the series' most bizarre, and this is also considering the opening scene of the fourth film. It involves Brian and Dom escaping a high-rise building in an unfathomable sports car by smashing through its glass front. That seems pretty standard on the surface, until you realize that the two are about sixty stories in the sky and smash through the glass front of the window and successfully land on another skyscraper only to do the same thing and leap to another skyscraper. Watching this play out gave me the feeling that the homey Fast and the Furious films, the first and second one specifically, that echoed those fathomable sensibilities I mentioned earlier are long gone. Instead, this is a film that is so outlandish it might as well have a Marvel logo stamped on it.
This, however, isn't a bad thing. Unlike the repetitive and almost entirely unrelated Fast Five, Furious 7 keeps the emotional pull here, with the constant emphasis on family and brotherhood in a way that, as cliche as it is, tugs at the heartstrings given the real-life circumstances that really brought this film together. Here, we begin to see Brian and Dom as real people, despite them being ostensibly immune to damn near everything. We see their age and we see their experience almost begin to fade in the face of a villain who is as cruel and cold-hearted as he is empty (though Statham may be at his most vapid here in terms of character, he's also at his most frightening as a presence).
Furious 7 offers a lot in its one-hundred and thirty minute runtime; I was stunned how invested I was in it because every Fast and the Furious film after three had a flabby portion that had me losing interest or zoning out for a few minutes. This is a film that's a sendoff, a love-letter to itself and the communities it helped build and inspire, and those who have watched these characters for well over a decade and have grown to respect them as if they were in their own car group. The film is one big, celebratory "cheers," and the multitude of cars revving and reaching incalculable speeds is another way of hearing the "clink" the champagne glasses – or Corona Extra bottles – make when brought in contact with one another. Drink up.
My review of The Fast and the Furious (2001)
My review of 2 Fast 2 Furious
My review of The Fast and the Furious: Tokyo Drift
My review of Fast & Furious (2009)
My review of Fast Five
My review of Fast & Furious 6
My review of The Fate of the Furious
My review of F9
My review of Fast X

Starring: Paul Walker, Vin Diesel, Michelle Rodriguez, Jordana Brewster, Jason Statham, Tyrese Gibson, Ludacris, Kurt Russell, and Sung Kang. Directed by: James Wan.