Fast X (2023) review
Dir. Louis Leterrier

By: Steve Pulaski
Rating: ★½
Fast X — or "Fast Ten Your Seatbelts," as it should be known — puts us on the end of the road of a franchise predicated on muscle cars and pretzel logic. Initially reported to be part one of a two-part finale, the film reportedly is part of a three-part finale. When the eleventh film comes out, I'm sure we'll be hearing that spin-offs or perhaps additional miles in this never-ending road will follow.
This is a dangerous proposition, as the franchise verged on parody with F9, and now appears to be shifting into cruise control with Fast X, the worst installment thus far.
The film opens with a callback to Brian O'Connor (the late Paul Walker) and Dom Toretto (Vin Diesel) stealing a gargantuan safe from drug lord Herman Reyes (Joaquim de Almeida, Missing). Turns out, Reyes' son Dante (Jason Momoa) was present the whole time! He was even involved in the high-speed chase that saw his father get crushed to death in a pile-up. Over the course of 10 years, Dante has been plotting his revenge on Dom and his extended family. It's a convoluted plan-of-action, but he doesn't merely want to kill Dom; he wants to make him suffer the pain of seeing his cohorts in distress.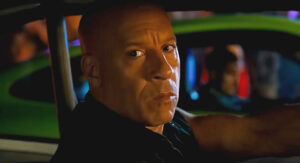 After a high-speed heist in Rome goes awry, Dom and the family — Roman (Tyrese Gibson), Tej (Chris "Ludacris" Bridges), Ramsey (Nathalie Emmanuel), and Han (Sung Kang) — are all the most wanted fugitives in the world. They separate and get to globetrotting, with familiar faces showing up along the way: there's the return of Dom's brother Jakob (John Cena), Cipher (Charlize Theron), Deckard (Jason Statham), Queenie (Helen Mirren), Mia (Jordana Brewster), Little Nobody (Scott Eastwood), as well as newcomers in the form of Brie Larson and Alan Ritchson as international spies.
The primary storyline involves Dom and his son, Brian (Leo Abelo Perry), trying to outwit Dante as his schemes get more elaborate and the chases more reckless and violent.
With the calamity of Paul Walker's death looming over Furious 7 in the middle of production right down to watching the final product, director Justin Lin was able to stabilize the series and, for the most part, keep it humming along. With Lin leaving Fast X over creative differences, Now You See Me director Louis Leterrier stepped into duty. Leterrier struggles to juggle a story that separates in four different narrative directions. Maybe most disappointing are the action sequences, which lack the visual and kinetic spark that Lin afforded them.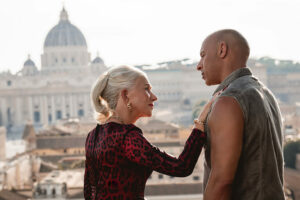 Don't mistake the film being the eighth most expensive film production of all-time for style. It's loaded with special effects, and save for the climax that sends Dom and his son Brian flooring a Dodge Charger down an exploding dam, there's not a single set-piece nor chase that outdoes anything that came before it.
The rotten core of Fast X is its characterization. It's almost as if the series skipped an installment, as it doesn't contextualize how Jakob went from being a cold-hearted, brutal murderer with deep contempt for his estranged brother to a joke-cracking uncle who protects Brian and jams along to "Good Vibrations" on a cassette tape in his car. Even with that on the table, Vin Diesel is the worst offender. He sleepwalks through the film as Dom has now become a brooding, middle-aged martyr, whose dialog consists of graveled mumbles about family and protecting those closest to him.
Few times does anyone speak more than ten words in a given sentence. Conversations are mostly fragmented, and separating the family allows little time for anyone, save for Dom and Dante, to make any kind of impression on this sequel. Roman has devolved from solid comic relief to being a totally annoying, antagonizing presence. One of the worst scenes is a half-assed physical altercation between him and Tej in an underground firearms shop run by Pete Davidson of all people. Before you knock Davidson, he at least brings some personality to the centerstage, if only for five minutes.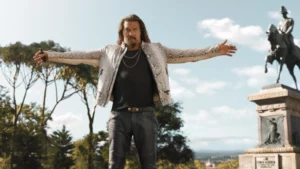 The saddest part is that arguably the series' best villain exists in the worst installment yet. Jason Momoa is hilarious and dastardly as the spiteful Dante, and he earns what few laughs Fast X offers. His elaborate — no, cockamamie — labyrinth of traps laid for Dom belong in a Fast and Furious movie with more comedic bite. Between Dom's incessant moping and Dante's joking villain, Fast X is stuck spinning its wheels between being a blockbuster comedy and a darker parable about making it so far only to lose everything.
Taking the gusto and gravity out of seeing the deaths of characters is the fact that multiple individuals, most notably, Han, have died multiple times over and have found convoluted ways to justify being alive. As has been the case now with several Fast and Furious films, Fast X plays like a Marvel film — an inconsequential and stupid one at that.
NOTE: Fast X is now playing exclusively in theaters.
My review of The Fast and the Furious (2001)
My review of 2 Fast 2 Furious
My review of The Fast and the Furious: Tokyo Drift
My review of Fast & Furious (2009)
My review of Fast Five
My review of Fast & Furious 6
My review of Furious 7
My review of The Fate of the Furious
My review of F9
Starring: Vin Diesel, Jason Momoa, Michelle Rodriguez, Tyrese Gibson, Chris "Ludacris" Bridges, John Cena, Leo Abelo Perry, Nathalie Emmanuel, Jordana Brewster, Sung Kang, Charlize Theron, Scott Eastwood, Daniela Melchior, Alan Ritchson, Helen Mirren, Brie Larson, Rita Moreno, Jason Statham, Pete Davison, and Joaquim de Almeida. Directed by: Louis Leterrier.