Steve Pulaski's Top 10 Worst Films of 2021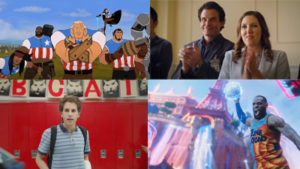 I'm a touch tardy on these two year-end lists on account of three or four movies I wanted to watch before making my final ranking. Some stats to begin: I watched 108 releases this year (2021 movies exclusively) with 239 movies watched in the year. 33 of those movies I watched in the theater. I went back to the theater in May 2021; the first time since March 2020. The first movie I saw was Spiral: From the Book of Saw. It was at least better than the movie I had last seen in the theater at that point (I Still Believe).
Lastly, I'm thrilled I can showcase these lists (and future ones) on this beautiful new website for which I'm eternally grateful. As a whole, it's still a work in progress. I've been uploading my backlog conservatively. I'm extremely grateful for everyone checking out my work on multiple different platforms. After more than 10 years, I'm proud that it's in a centralized space.
Without further adieu, here are my picks for the worst of 2021. Also included are streaming platforms, so you know where to avoid them.
[….]
1. God's Not Dead: We the People: God's Not Dead: We the People is not merely the worst in an already-misbegotten series, but so utterly deplorable that its status as a three-night-only Fathom Event in theaters at least assures that significantly fewer people will see it. At one point, a character justifies homeschooling their child because it "protects them from receiving some immunizations." This is the hellscape in which we live.
Where (not) to watch: Amazon, Vudu, YouTube
My review of God's Not Dead: We the People
2. Dear Evan Hansen: American cinema still hasn't found a way to touch on mental illness with any sort of poise. As such, it's a shame that Dear Evan Hansen will be the film of that breed most will see this year. Adapted from a book by Steven Levenson, which became a Broadway sensation in 2015 when Benj Pasek and Justin Paul turned it into a musical, here arrives the film adaptation with the story's flaws and misgivings on display for an even larger audience to witness.
Where (not) to watch: Amazon, Vudu, YouTube
3. A Holiday Chance: Just how predictable is Jamal Hill's A Holiday Chance? More than just predicated on the most pat themes imaginable — "giving is better than receiving," "family is forever," and "be true to yourself" — the film ends with the song "We Are Family." Well, if this isn't the Hallmark holiday movie that could…inexplicably find its way into theaters.
Where (not) to watch: Amazon, Vudu, YouTube
4. Paranormal Activity: Next of Kin: Paranormal Activity: Next of Kin arrives on Paramount+ as both the seventh installment of the series and a standalone sequel. Relegated to a second-tier streaming service on Halloween weekend with minimal promotion, it has all the makings of a generic supernatural chiller that was retrofitted to be a part of a franchise that took its dying breath years ago. On top of being entirely too generic, its uneven style and derivative framework is only made more disappointing given that it came at the hands of screenwriter Christopher Landon, whose repertoire of four films of this series along with Happy Death Day would've suggested a more inspired effort.
Where (not) to watch: Paramount+
My review of Paranormal Activity: Next of Kin
5. Space Jam: A New Legacy: Among many problems that run amok in the long-awaited Space Jam: A New Legacy, one of the most jarring is how big of a prick LeBron James is for about 75% of the runtime. The six credited writers drain the lovability out of the arguable GOAT by making his screen-persona the archetypal hard-ass father who hounds his kid for loving something different than the passion he turned into an all-time great career. Beyond that, the whole thing is an eye-catching mess, but a mess no less.
Where (not) to watch: HBO Max
My review of Space Jam: A New Legacy
6. America: The Motion Picture: Ostensibly brought to you by the same jokesters who peddle such frat-boy-centric T-shirts billing the Founding Fathers as "George Sloshington" and "Ben Drankin," America: The Motion Picture begins with a beer pong tournament amongst those very men. The intro to the Constitution is on the line, and it's John Hancock who sinks the final ball, making his choice of phrasing, "We the People," the winner. Thomas Jefferson's suggestion? "Us rich white guys." Hancock proceeds to sign the document. Right off the bat, America can't decide whether it's making a joke of the Constitution or the Declaration of Independence.
Where (not) to watch: Netflix
My review of America: The Motion Picture
7. Locked Down: That fate of obscurity is destined for Locked Down, a film that's only purpose is a seldom entertaining time capsule of unprecedented times™, and to boast a number of eyebrow-raising stats. "A film shot during the pandemic." "A film for these troubling times." At its core, this is a truly bizarre amalgam of domestic strife by way of mumblecore and shoehorned heist drama that squanders relatability in its focus on apathetic rich folk monologuing about their problems, never realizing they have it better than most of the world. These sins could be forgiven had the film been at least entertaining. This is material ripe for a thirty minute short at most. Not a two hour film that begs you to check your phone less than halfway through.
Where (not) to watch: HBO Max
8. The Most Reluctant Convert: The Untold Story of C.S. Lewis: The Most Reluctant Convert: The Untold Story of C.S. Lewis would've been a better read than a theatrical experience. I'm not sure the stage would've made a great deal of difference. There's so much philosophy and theology embedded in this project that trying to juggle the many revelations along with the active dramatization of C.S. Lewis' life that any dramatic energy is impossible to sustain. This might be a first for me to write, but film was not the appropriate route for this particular approach.
Where (not) to watch: The film's website
My review of The Most Reluctant Convert: The Untold Story of C.S. Lewis
9. Spirit Untamed: Spirit Untamed is Spirit in name only. Failing to capture even a shred of magic found in Spirit: Stallion of the Cimarron, the film certainly didn't captivate the audience at my showing. In a showing with about eight kids, few of them sat still for any duration of time. Had this regurgitation of Spirit possessed the arresting qualities of its predecessor, I wonder if the kids would've been more patient with it. Maybe not. But everyone including tired parents would've seen a better movie at least.
Where (not) to watch: Hulu, Peacock
10. The Little Things: Without even knowing that John Lee Hancock's screenplay The Little Things was first drafted in the 1990s, you probably could've made that assumption upon watching it. This was a film set to be released during a time when police procedurals dominated the multiplex alongside erotic thrillers. Television has more-or-less become home to this type of framework, be it network shows such as Chicago P.D., or acclaimed premium cable offerings like True Detective. Yet even if you fancy yourself a fan of this genre, there's desperately little in The Little Things that will keep you engaged.
Where (not) to watch: HBO Max
My review of The Little Things
Honorable mentions: Juice WRLD: Into the Abyss