Steve's Top 10 Worst Films of 2022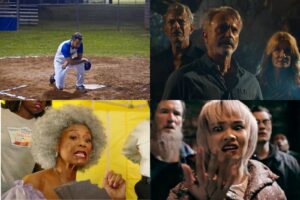 Due to some New Year's Eve commitments, I wanted to make sure I compiled and released my annual "Top 10" lists earlier than usual this year. I normally wait until the first or second week of the year, so consider this a less belated than normal Christmas gift. I know some people wait in anticipation for my annual wrap-up.
As I've discussed with my cohosts on Sleepless with Steve throughout the year, 2022 felt like the first truly strong year for movies since, say, 2018. Especially in the nebulously billed "post-pandemic world," there were a slew of entertaining, must-see films for the big screen, and a stronger-than-usual slate for streaming films alike.
Some quick stats before proceeding with the list: I watched 112 movies released in 2022. 56 of those were in theaters. That's 50% of releases I saw on the big screen, a damn-good average. A credit to my work schedule, which permits me to see Thursday matinee/evening showings for new releases, which also frees up my weekend (I'm still getting used to not going to the movies most Saturday mornings). Four of the 110 films I watched were via film festivals, either Sundance (virtually) or my current city's festival, the Julien Dubuque International Film Festival (JDIFF). I am thrilled to see Sundance continue with the virtual model for 2023. I wish more festivals did that for those less fortunate critics such as myself who do not have the PTO, money, nor luxury of flying across the country. Maybe one day. Not this one, sadly.
But you cannot have the great without the bad, or downright loathsome, in some of these cases. Without further adieu, here are the worst films I saw in 2022. Unlike my favorites list, I did not include where you can watch these films. Best to leave these ones unseen, if you value your time.
[….]
1. Family Camp: We already have such drivel as Are We There Yet?, Daddy Day Care, and several other films in the realm of generic family movies that dial up the antics while seemingly avoiding any attempt at genuine comedy. Now imagine how bad those movies would be if they threw in Christian rhetoric uttered by the most archetypal "characters" you could write. That's Family Camp in a nutshell. There's nothing funny about a movie that spends an ungodly 111 minutes doing and saying nothing remotely original. This is a tedious test of patience; its most impressive feat is that it merited a top ten spot at the American box office its opening weekend with less than 1,000 theaters. That's quite remarkable. Until you consider it might prompt a sequel.
2. Block Party: In 2021, shortly after Juneteenth became a federal holiday, a poll conducted by The New York Times showed the vast majority of Americans didn't know what the day signified. That should change in the coming years. However, it'd be a real shame if it was another holiday hijacked by the likes of The Hallmark Channel, BET, or another network looking to reduce it to folderol. Block Party — which is billed as "the first Juneteenth family comedy" — is a pathetic excuse for a comedy and an affront to the respective holiday. Beyond being incorrect in its self-designation (the film boasts a "TV-MA" rating on BET+), it makes Tyler Perry's worst films look like John Singleton's "Hood trilogy."
Try and forgive the fact that Juneteenth means desperately little to the filmmakers until it's time for their project to have an overarching moral in the third act. Instead, recognize that the worst thing a movie can do is spend 80 minutes making you not take it seriously before asking you to do the opposite in the final ten. That is worse than miscalculated; it's insulting.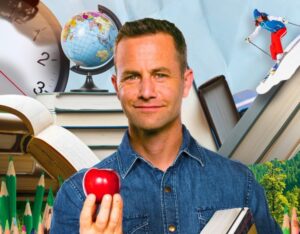 3. Kirk Cameron Presents: The Homeschool Awakening: You need not have to dig too deeply to realize the many benefits that come with homeschooling your child. But if you're new to the idea, or even considering it, you're not likely going to emerge from Kirk Cameron Presents: The Homeschool Awakening enlightened. This documentary is 90 minutes of Kirk Cameron's wealthy friends singing the praises of homeschooling, never fathoming that the majority of working American households could never dream of pulling off such a tall order while keeping the lights on.
My review of Kirk Cameron Presents: The Homeschool Awakening
4. Jeepers Creepers: Reborn: Jeepers Creepers: Reborn is the first in the series not to be helmed by Victor Salva, which will eliminate the stink for a good handful of viewers, who felt unnerved by supporting a franchise created by a convicted pedophile. Iron Sky director Timo Vuorensola is the man behind this one (and presumably the other two installments in the new trilogy), alongside writer Sean-Michael Argo. It's clear both men have a deep appreciation for the Creeper. Vuorensola and cinematographer Simon Rowling curate an atmosphere of macabre dread that makes this film, at least visually, fit in with the previous three flicks. But confining the Creeper to an indoor setting also wasn't the brightest move, for it limits his ability to fly, figuratively and literally. That's just one of many problems here.  Jeepers Creepers: Reborn is a downright miscarriage.
My review of Jeepers Creepers: Reborn
5. The Mulligan: When you take two of the most boring things on Earth — golf and obvious life lessons billed as revelations — it's not surprising you get a bad, boring movie in return. It's a shame we can't get a mulligan on the movie The Mulligan, although that would require an extensive overhaul of pretty much everything.
Save for a charismatic Pat Boone (still glowing at age 87) and some attractive photography, this is a drearily simplistic, run-of-the-mill piece of proselytizing tailormade to impress its target audience, if that. It's set in some fictitious world where naughty words don't exist, an old-timer spends his remaining days overlooking a verandah waiting for a lost soul to tap him on the shoulder, and CEOs of multi-million dollar enterprises eventually have the heart to implore their employees to take more vacation time.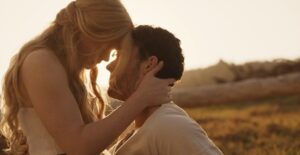 6. Redeeming Love: Released in the dreary, bitterly depressing month of January, Redeeming Love is, to date, the most risqué offering from Pinnacle Peak Pictures (Pure Flix) and still somehow one of the worst. It revolves around human trafficking and features many uninspired, Nicolas Sparks-esque sex scenes. If you or a loved one lived in one of those parts of the US where the wind chills were subzero during the time of the film's release — or even where COVID-19 cases are surging — and you ventured out to see the dismal Redeeming Love, you should be entitled to compensation. Or at least a free ticket voucher for your next, hopefully more enjoyable outing.
7. Mack & Rita: A miserable miscalculation — one that makes 95 minutes feel double the length even during the first 30 minutes — Mack & Rita is an assortment of tacky screenplay devices in search of a shred of wit. How ridiculous it makes Diane Keaton look is already a crime, but how it makes caricatures out of everyone save for the two titular women proves it has hardly any purpose other than to waste your precious time. In a landscape saturated by rebooted IP and indestructible, spandex-clad heroes, the middle-aged crowd has definitely been at a disservice at the multiplex for many moons. Mack & Rita isn't remotely close to an ideal option.
8. Jurassic World Dominion: The unwritten law of American cinema evidently suggests that merely two weeks after we get one of the best blockbusters in half a decade (Top Gun: Maverick, on my other top 10 list for 2022), we get a good candidate for the worst one of the year. Jurassic World Dominion is a lumbering, mostly joyless experience; a fitting complement to its misguided predecessor, Fallen Kingdom. J. A. Bayona's nine-figure miscalculation did at least inspire some optimism with its ending, as dinosaurs were unleashed onto the entire world. That seemed like an appropriately hellish and deliciously chaotic premise for Colin Trevorrow to run with upon signing on to return as director.
My review of Jurassic World Dominion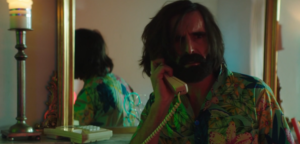 9. Heckle: While technically a "2020 movie," Heckle wasn't widely available to mass audiences until 2022, so I'm counting this year as its release-year. Heckle doesn't even qualify as trashy British horror. It's a slowburn (for 78 minutes, that's an accomplishment) slog predicated upon irredeemably ugly characters fooled by the misguided belief that influence alone can make a competent horror film. It's as dead-on-arrival as you expect any straight-to-VOD horror film to be. It's one of the final film performances featuring the late Clark Gable III. That's a damn shame.
10. Running the Bases: Running the Bases might have the most ludicrous setup of any film on this list. Picture this: an affluent Christian man *in Texas* gets thrown in prison — alongside convicted felons and an MS13 gangmember — for practicing a religious act on city property. In Texas. Running the Bases had me in the first half, where it seemed to be a plot and character-minded faith-based film. But in the bottom of the fifth of this egregiously long baseball drama (137 minutes), the writing and directing team of Marty Roberts and Jimmy Womble reveal themselves to be intent on playing the annoyingly tired card that the most dominant religion in the United States by a couple dozen country miles is in fact the most at-risk for persecution. Set this story in New York, Los Angeles, or one of those "liberal hellholes" and I might buy it.
My review of Running the Bases
Honorable Mention: Luck