Steve Pulaski's Top 10 Films of 2022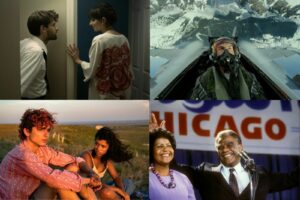 Due to some New Year's Eve commitments, I wanted to make sure I compiled and released my annual "Top 10" lists earlier than usual this year. I normally wait until the first or second week of the year, so consider this a less belated than normal Christmas gift. I know some people wait in anticipation for my annual wrap-up.
As I've discussed with my cohosts on Sleepless with Steve throughout the year, 2022 felt like the first truly strong year for movies since, say, 2018. Especially in the nebulously billed "post-pandemic world," there were a slew of entertaining, must-see films for the big screen, and a stronger-than-usual slate for streaming films alike.
Some quick stats before proceeding with the list: I watched 112 movies released in 2022. 56 of those were in theaters. That's 50% of releases I saw on the big screen, a damn-good average. A credit to my work schedule, which permits me to see Thursday matinee/evening showings for new releases, which also frees up my weekend (I'm still getting used to not going to the movies most Saturday mornings). Four of the 110 films I watched were via film festivals, either Sundance (virtually) or my current city's festival, the Julien Dubuque International Film Festival (JDIFF). I am thrilled to see Sundance continue with the virtual model for 2023. I wish more festivals did that for those less fortunate critics such as myself who do not have the PTO, money, nor luxury of flying across the country. Maybe one day. Not this one, sadly.
Without further adieu, here are my favorite films of 2022. Also included are streaming platforms where you can watch said movies.
[….]
1. Cha Cha Real Smooth: This was the toughest call for number one that I can remember. In my mind, Cha Cha Real Smooth wrestled with my #2 pick for the last several weeks. What was the tiebreaker? The fact that I have a 27×40 one-sheet of the poster for Cooper Raiff's sophomore movie hanging in my living room. That accounts for something. Not to mention the fact that, in addition to my review of the film, I wrote a lengthy essay on Raiff and his first two films on this very website. The internet is clogged with my thoughts on this film, so I'll keep it rather pithy here. Cooper Raiff hits another home-run with this winsome dramedy about a chatty 22-year-old who is so good at helping others yet paradoxically so bad at helping himself. Raiff's comfortable dorkiness might turn people off, but I blame that more on the cynical social climate in which we live. Dakota Johnson is outstanding; her and Raiff make sweet music.
Where to watch: Apple TV+
My review of Cha Cha Real Smooth
2. Bones and All: I consider Bones and All my "1b" pick, but I'll adhere to conventional structure anyway. This is the kind of film that stays with you long after the credits roll. It's as outstanding as it is disturbing. Bones and All might be the best movie since Parasite in terms of fusing genres and refusing to be neatly classifiable. This is a movie that feels profoundly lived-in, extravagantly beautiful at times and unbearably tragic at others. The idea that there is someone out there willing to take on your emotional burdens with their own is a comforting thought, even as the third act presents us with a star-crossed dilemma that makes you wonder if such a notion is too good to be true. Luca Guadagnino's latest is a masterpieces, bones and all.
Where to watch: Available to rent on various platforms; DVD/Blu-Ray to be released on January 23rd, 2023
My review of Bones and All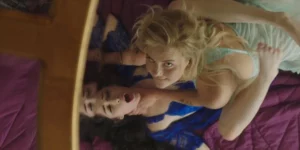 3. Pleasure: There are far too few films about the porn industry, in my opinion, and far too few great movies. Ninja Thyberg's Pleasure is both, blessed so. The film is a revelation in how it subverts our expectations for a movie centered on the porn industry. Rather than dial up the victim narrative or be a nasty piece of exploitation, Ninja Thyberg strips this world of its eroticism in favor of the business side, both the mundane and the networking aspects. STD tests, douches, butt plugs, pep-talks, safe words, and video recordings of IDs and consent are all part of the protocol. Thyberg (who cowrote the film with Peter Modestij) is more interested in the construction of arousal rather than actively arousing us. In one of many moves that might surprise you, there is far more male nudity in Pleasure than female, and when the sex finally begins, the movie becomes hyper-fixated on Bella's perspective, sometimes switching to her POV in the middle of the action.
Where to watch: Showtime, VOD platforms
My review of Pleasure (2022)
4. Punch 9 for Harold Washington: Punch 9 for Harold Washington is a riveting film. Its humanization of a large political titan, who remained accessible and transparent throughout his all-too-brief run, is gripping from the first time Washington appears on screen. His trademark rallying cry, through his raspy voice, might find itself engrained in your memory: "You want Harold?!? You got him!!!" Chicagoans, and those like me, who grew up outside of the city limits, are raised to loathe our politicians, toss political literature, and wax cynical about the state of our city's politics on a daily basis. Washington was a different breed. It might be a cold day in hell on a warm day in the Windy City before we see another one like him.
Where to watch: TBD (stay posted on the film's website for updates)
My review of Punch 9 for Harold Washington
5. Top Gun: Maverick: I say this without prior research, but I do believe Top Gun: Maverick is the first blockbuster I've included on one of my annual lists since Mad Max: Fury Road in 2015. It's well-worthy of a spot too. It's hard to fathom another summer blockbuster being so richly conceived and heavy on adrenaline as Top Gun: Maverick. Furthermore, it's hard to imagine one so inextricably connected to its main star too. Tom Cruise has gone on to be Maverick. He ages in reverse, his thirst for thrills is unquenchable, and a year removed from 60, he still harbors boyish energy levels. In a few fleeting moments, you can tell the ear-to-ear smile on Tom Cruise's face is a genuine one. You can't fake Cruise's smile. You see the earnestness in his eyes, especially when they moisten at times.
Where to watch: Paramount+
My review of Top Gun: Maverick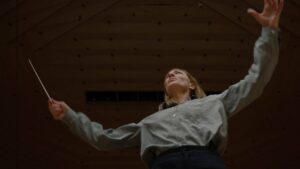 6. Tár: Who doesn't love an epic character study of an unlikable intellectual? Well, a lot of people. Tár will be very polarizing for everyday audiences; a chore, even. Yet it's a treat for those of us who like our stories laced with unbridled obsession, intellectual musings, and razor-sharp insights into guarded worlds. Even when it gets lost in itself, another expertly crafted scene isn't far away. Todd Field and Cate Blanchett work as co-conductors in this oft-mesmerizing if sometimes impenetrable work, which all but demands a second viewing from those patient enough to let it breathe in the first place. I can't way to see it again. I might have more later. For now, I'll leave it to rest by saying it's one of the best movies of the year.
Where to watch: VOD platforms
My review of Tár
7. Glass Onion: A Knives Out Mystery: I would've been pissed if I watched Glass Onion: A Knives Out Mystery after I made this list. How does Rian Johnson respond after creating one of the most entertaining movies of the year with Knives Out? By going bigger, craftier, and even more timely with Glass Onion: A Knives Out Mystery. This flashy, full-bodied sequel doubles-down on the mystery that made the original film such a memorable outing. Despite a larger, more enveloping narrative and a slightly longer runtime, Johnson masterfully retains the momentum. If there was any doubt regarding what a chiefly original craftsman he is, it should be put to rest with this sequel.
Where to watch: Netflix
My review of Glass Onion: A Knives Out Mystery
8. Apollo 10½: A Space Age Childhood: Richard Linklater's nostalgic love-letter to the space age might be the most unsung movie of the year. Like Linklater's warmest movies — Boyhood, Everybody Wants Some!!, his debut Slacker — Apollo 10½ is a scrapbook of delicate yet fungible memories of growing up and living life in the moment. He turns the grandiose plot of a boy's fantastical odyssey to the Moon into a subplot, instead giving the era itself, its specificities, and ensuing warmth centerstage. At roughly 90 minutes, Apollo 10½: A Space Age Childhood is the optimal length for a personal, narration-heavy essay from one of America's most tender filmmakers making, again, one of the most dazzling surprises of the year thus far.
Where to watch: Netflix
My review of Apollo 10½: A Space Age Childhood
9. Stutz: 2022 must be the year for love-letters because Stutz is a love-letter from Jonah Hill to his therapist, Dr. Phil Stutz. This is a warm, well-intentioned, and frankly captivating look at therapy, especially for those, such as myself, who have never experienced it first-hand. I was transfixed not only by Dr. Stutz himself, but by his exercises (known as "tools"). I'll add that the segment on "loss processing" helped me quite a bit. Oh, how I wish my late mother, who died last year, could've seen this film. Perhaps she would've read Stutz's book I would've bought her, had I known of him during her lifetime. Perhaps she would've stumbled upon a takeaway or two she could've applied to her everyday life. Perhaps she'd still be here today, even though that might be a reach. Instead, I'm left to try and better myself with some of these practices. And I don't think I'll be the only one either.
Where to watch: Netflix
My review of Stutz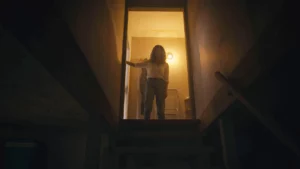 10. Barbarian: It would be criminal not to include a horror movie on this list, given what an outstanding year it was for the genre. It was unbelievably tough to pick from the following, including The Menu: The Black Phone, The Menu, Nope, and Fall (although that one is more of a thriller). Zach Cregger's Barbarian is poised to do for Airbnbs what Escape Room did for the titular attraction, Final Destination 2 did for log-trucks, and maybe what Jaws did for beaches. The latter might be a stretch, but this isn't. Barbarian is yet another W for the horror genre this year. Similar to Jordan Peele's first-go-round, you'd emerge believing Cregger was a horror lifer as opposed to a career comedy writer with how skillfully he operates. He subverts expectations and constantly throws you for a loop without drawing too much attention to red herrings. In fact, he takes familiar setups and plays with our preconceived notions to the point where we can't help but be along for the bloody, shifty, and damn satisfying 100 minute ride.
Where to watch: HBO Max
My review of Barbarian
Honorable Mentions (no order): Everything Everywhere All at Once, Nope, The Northman